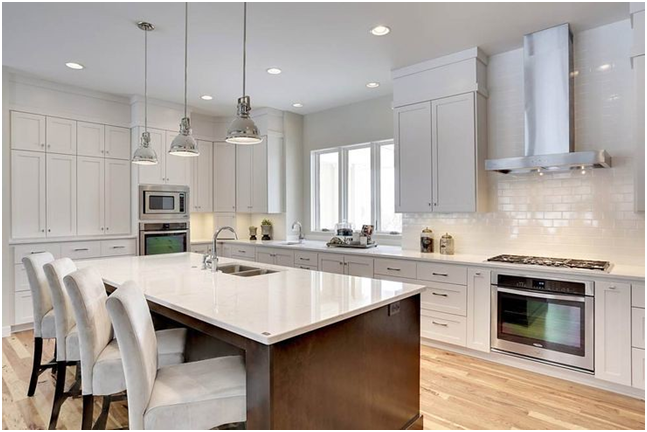 Kitchen renovations are equally important as renovating your home. A drab kitchen will reduce the beauty of your home. As we are aware, the kitchen reflects you as an individual and a clean and beautiful kitchen can not only add comfort to the routine but also provide the desired first impression. There are multiple ways of kitchen renovations depending on the requirements. Before we start off, let us look at some of the benefits of doing so.
Increase in home value: A comfortable, functional and well-designed kitchen can increase your home value to a new high. Even if your house has the required looks, a drab kitchen can decrease the value and put you in a loss. Worldwide brokers agree to the fact that a kitchen can break or make a sale of the house. You find that most of the potential buyers look first at the kitchen before making any decision. In addition to this, a renovated kitchen is able to mask the other areas of the house which are not up to the mark. Renovating your kitchen will also give you the comfort of working in an area which is up to the mark with the latest upgrades.
Getting a feel of a new kitchen: Renovating your kitchen gives it a totally new look and lets you enjoy the feel of a cozy kitchen where everything seems to be in pace with no clutter around. Definitely, you will have more space and storage will be convenient. You have options of only changing the cabinets, or the countertops, or even the sinks or the appliances. Every small change will make a big difference.
Hiring a professional: If you have the time and inclination to renovate your kitchen on your own, it is possible. This can save on the cost and give you the pleasure of changing what is required without any hassles. In case you need the kitchen to be totally renovated, it is advisable to hire a professional kitchen contractor who is well reputed and has good experience in doing so, but make sure your requirements are understood so that you are not left stranded with things that you don't require. You also have the option of choosing your own supplies and getting a professional to do this job. It totally depends on what you are looking for.
Updating the kitchen: Kitchen renovations make the task easier as you are not scrubbing, cooking and washing vessels in a congested kitchen. Only updating the appliances can make a whole lot of difference and ease the experience of cooking. This might help you re-discover your love for the whole procedure of cooking. Talking of updating, in case you are tied down with your budget, you can think of only repainting your walls and making a few minor changes.
Kitchen renovation helps you get organized: Kitchen renovation is able to provide an opportunity to you to reorganize your storage and optimize the work in the kitchen. A remodeling project for your kitchen will make sure that there is no clutter around and that there is enough storage space available to give a tidy look and feel to the kitchen. Here is where a professional can assist you as with their experience you will be able to get the kitchen of your dreams.
Renovated kitchen is safer: It is a fact that working in kitchens which are outdated might turn out to be dangerous. The electrical outlets might not be grounded properly or probably if the appliances are old do not function properly or even the floor might be damaged leading to accidents. A renovated kitchen can get rid of all these problems and help you enjoy your time here. If you are looking for something new in your kitchen? Then kitchen renovation with us is the best thing to do for your Cuisine Space.